QUEEN VICTORIA
Looking for a touch of British humour and history for your next event? Look no further! Our hilarious act is available for hire for all kinds of British-themed events and fairs. Get ready for some serious laughs and unforgettable moments with our wacky characters.
Introducing Queen Victoria – the wackiest and most whimsical British-themed costume character you'll ever lay eyes on! This historic figure may look like a marble statue, but she's far from being a stiff-upper-lip kind of gal. In fact, she's a grumpy and pompous act who's not afraid to let out a cheeky fart every once in a while (just don't blame it on the corgis!).
Don't be fooled by her perfect marble-tone costume, Queen Victoria is all about fun and silliness. You'll be amazed at her character's infectious energy and comic charm. And who doesn't love a good royal wave? You'll definitely want to give her a wave and see if she waves back with her characteristic regal flair!
So don't miss out on the opportunity to add some wonder and laughter to your event. Hire Queen Victoria and her gang today for a taste of British history with a silly twist. Let's have a jolly good time!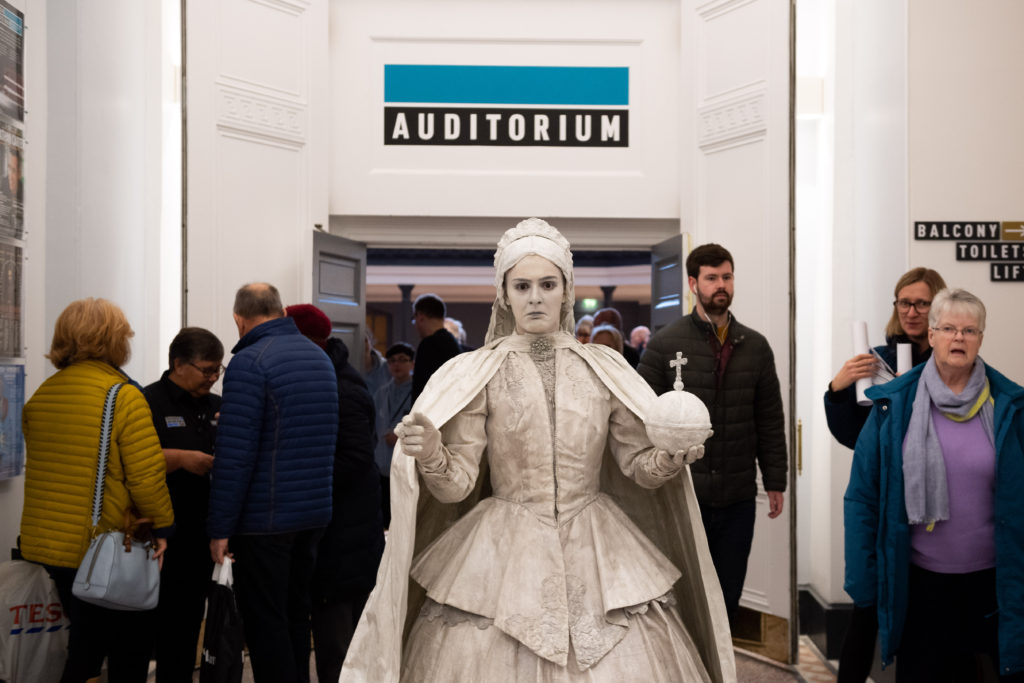 Photos by Richard Frew Photography in Music Hall, Aberdeen, Scotland
But let's not forget the rest of our fascinating British characters! From wacky jesters to whimsical courtiers, we've got the whole gang to make your event marvellous and fun. You'll feel like you've stepped back in time to the King's Coronation Days with these historic figures around. Contact us for more details!