The Snow Queen
is a stunning walk-around act or a marble living statue. She is the perfect addition to a wonderland, ice or fairytale event.
Winter's arrival announces the Snow Queen's – character act – return as she emerges from her icy realm to enchant all with her frozen whispers. She radiates light on magical winter nights, shimmering in silver, blue, and white. Despite the cold air, she has the power to warm hearts with her charm.
The Snow Queen – walkabout act is a beloved and highly sought-after Christmas character in both Britain and the rest of Europe. Inspired by the Narnia stories, she offers an extraordinary magical winter experience to her audience with her warm and welcoming interaction. The Snow Queen has already enchanted crowds at renowned European festivals such as the Living Statue Championship in the Netherlands and the UFO Festival in Poland. She has also made appearances in Singapore, Asia.
This living statue is the perfect entertainer for themed events, weddings, and festivals with a winter or festive theme, such as Narnia, snow, ice, Wonderland, fairy-tale, Victorian, classic, white, and more.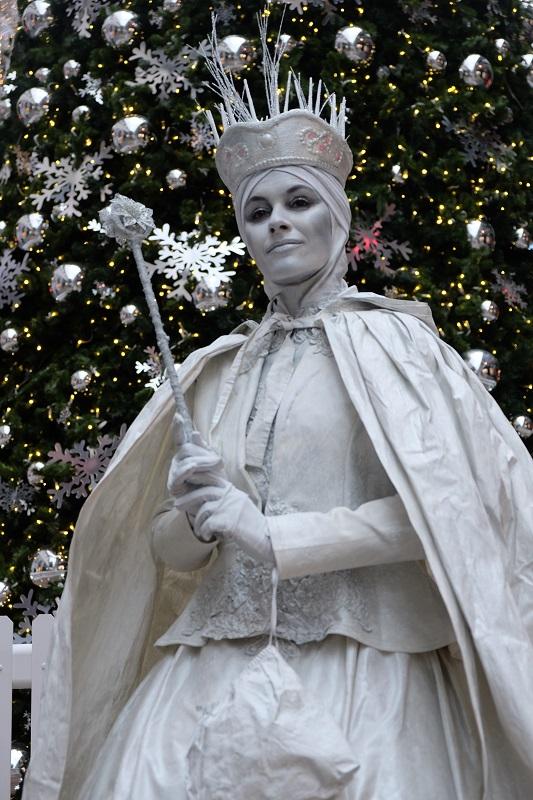 FAQ here
THIS CHARACTER WORKS WELL WITH WOODLAND ELVES, CHEEKY ELVES, GOLDEN JESTSTER, AND SILVER LADY FOR WONDERLAND AND CHRISTMAS-THEMED EVENTS.